Brief introduction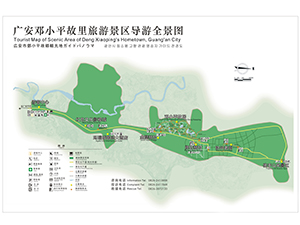 Deng Xiaoping Home Village scenic spot is adjoining to downtown area of Guang'an city, Sichuan province. The core area of Deng Xiaoping Home Village is the country's only memorial park with the theme of commemorating Deng Xiaoping. Inside the park there are nearly Deng Xiaoping's 20 activity places in his childhood and early youth, namely Deng Xiaoping's former residence, inkstone washing pond, imperial academy member courtyard, cocoonery courtyard, Beishan primary school, water pond, gravestone, benevolent rule memorial archway, and pasture cattle ground, etc.
Under the approval of the Central Committee of CPC (Communist Party of China), Deng Xiaoping's former residence exhibition center was built, and Deng Xiaoping bronze statue was established. Presently Deng Xiaoping memorial hall is under construction.
Here, people can read the beginning of the great man, pursue the history of Deng Xiaoping and obtain more enlightenment while feeling the greatness of a man lending glory to a place. Today Deng Xiaoping Home Village has become an important base for people to pursue Xiaoping's history, cherish the memory of the great man, and receive education on patriotism and revolution.
The scenic spot provides comprehensive services including consultation, left-luggage office, interpretation, electric power cart, movie, flower, photographing, fast food, tea tasting and special souvenirs shopping,etc.