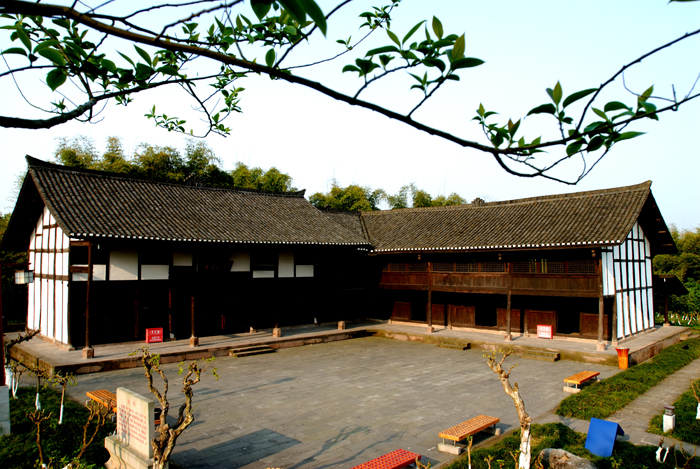 The Cocoonery Courtyard
The Cocoonery Courtyard is 500 meters away from Deng Xiaoping Former Residence. Dating from Qing dynasty, the place was where the Dengs and their clansman engaged in mulberry planting, silkworm rearing and reeling. This is the largest cocoonery in Paifang Village, where mulberry trees were planted everywhere around the house, and all the wing-rooms were occupied for silkworm rearing, cocoon cooking and silk reeling, only keeping the principal room for people. Similar in architectural construction to that of Deng Xiaoping Former Residence and facing south, the Cocoonery Courtyard is constructed with wooden roof trusses and timber frames as its bearing system. The Cocoonery Courtyard, with its grey tile-covered roofs in typical Chinese-style, wooden pillars with plinths and two-storey floor plan, is a typical vernacular architecture of cocoonery in eastern Sichuan province.
After the Chinese Revolution of 1911, based on the Cocoonery Courtyard, Deng Shaochang, Deng Xiaoping's father, ran a silk reeling plant together with Deng Junde, one of his cousin, and others, "the Goodwill Silk Mill" by name. At the silkworm breeding season, the Cocoonery Courtyard became a hive up and down. As a child, Deng Xiaoping would come here to help out, busied himself with ins and outs, picking mulberry leaves to feed smaller silkworms.
After Deng Xiaoping participated in the Chinese Revolution, "the Goodwill Silk Mill" made contributions to the Revolution. It was the late 1920s of the 20th century, when the Chinese revolution at a low ebb, and Deng Xiaoping, the then secretary-general of the central committee of the communist party of China, could find no way out to raise funds for the Party's revolutionary activities. After completing a transaction with the Japanese in Shanghai, Deng Junde came across Deng Siaoping. Learning that Uncle Deng Junde came to Shanghai to sell silk, Deng Xiaoping asked about conditions at home, and took the money from the deal, all 500 silver dollars, as funds for revolutionary funds, thus tackling the thorny problem of shortage of funds. At the same time, both Deng Shaochang, Deng Xiaoping's father and Deng Junde, Deng Xiaoping's Uncle, knew that Deng Xiaoping had taken a road of hope and was doing the right thing. They thought it worthy to donate the 500 silver dollars. The Cocoonery Courtyard is province protected cultural relics in Sichuan.