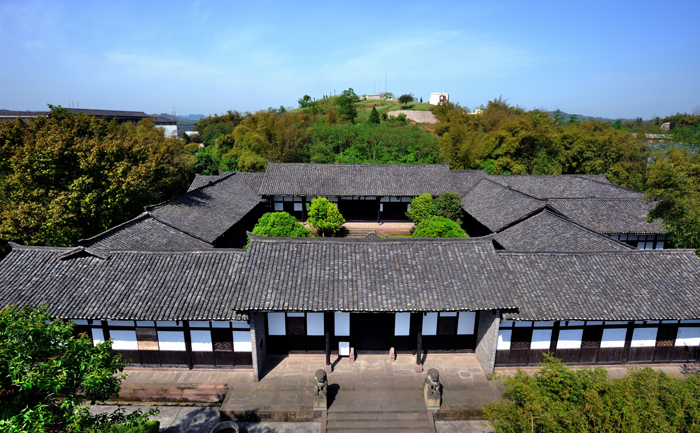 The Hanlin Academician Mansion
The Hanlin Academician Mansion is one kilometer away from Deng Xiaoping Former Residence. The Mansion Built during the reign of Emperor Qianlong (1736-1796), was the old house where Deng Shimin, Deng Xiaoping's ancestor, retired from office back to private life. Facing east, the Mansion is an impressive and stylish Siheyuan courtyard. It was constructed with wooden roof trusses and timber frames and overhanging gable roof with grey tile-covered roofs in typical Chinese-style. The Mansion occupies a total area of 2219 square kilometers, and a floor area of 1671 square kilometers, consisting of the propylaeum, the dramatic stage, the halls and 36 wing rooms of different sizes. Since Deng Shimin had no grandson when passing away, the clansman of the Dengs had a discussion and agreed to have the Mansion turned into a family school with a view to foster outstanding talents to uphold the family honor. As a result, the first old-style private school came into being in Paifang Village. In 1909, five-year old Deng Xiao entered the school for enlightenment, and got renamed from "Deng Xiansheng" to "Deng Xixian".
When beginning his school at The Hanlin Academician Mansion, his first tutor at the old-style private school was Deng Junde. After the apprentice ceremony, on hearing that the new pupil was named "Deng Xiansheng "(means 'ancient sage' in Chinese), the old gentleman shook his head to express his disagreement. In his opinion, Deng Xiansheng was not a proper name for Deng Xiaoping. Learned and scholarly as Confucius, he could be honored as "the sage". How could an ignorant child be addressed as "the Sage"? This was simply disrespectful to Confucius, the real sage. In this way, Deng Xiaoping was renamed by his tutor as Deng Xixian (means "expecting a sage of him"). The name Deng Xixian had been in use for 18 years until another name Deng Xiaoping was adopted due to the need of revolution. After liberation, with the local government's deep concern for education, a village primary school was set up at The Hanlin Academician Mansion, named "Hanlin Primary School". In 1985, considering the need for the school was moved to the new Paifang Village one kilometer away from the Mansion for need of popularization of primary education. Currently, after 20 years of continuous expansion, Hanlin primary school has developed into a school for compulsory education for over 3000 students in more than 40 classes.